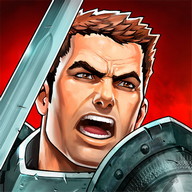 StormBorn: War of Legends RPG
Mô tả
StormBorn: War of Legends RPG Android Game
Lead your ARMY of HEROES to battle in this revolutionary action + strategy RPG!
Year End Deals Now!!!
Lead your ARMY of HEROES and unleash epic battle Abilities in StormBorn: War of Legends! PLAY FOR FREE in the revolutionary action + strategy RPG. Assemble your force of the mightiest Heroes in the realm – powerful Fighters, cunning Rogues, mighty Beastmasters, and more!
= GAME FEATURES =
- EPIC COMBAT - Take to the battlefield with a ground-breaking combat systems that combines visceral RPG action with deep strategy! Watch beautifully animated heroes charge forth and destroy your foes with Ultimate Abilities!
- 60 UNIQUE HEROES - Summon over 60 StormBorn heroes from the Storm Portal. Command heroes with distinctive abilities and strengths – from brutal Darkmages to powerful Captains! Can you collect them all?
- BATTLE OTHER PLAYERS - Battle millions of other players across the globe for honor, massive loot, and bragging rights!
- BUILD YOUR BASE - Construct and defend a mighty fortress to improve your army and protect your ancient treasures!
- DEEP QUEST STORYLINE - Unravel the mystery of the dark force that threatens all in an epic story! Born of the Storm, can your army triumph?
- CUSTOMIZE YOUR HEROES - Promote, Evolve, and Equip each of your heroes with immersive upgrade systems to build the best army in the land! Name your heroes and make them your own!
- FORM MIGHTY ALLIANCES - Unite, Stragegize and Conquer with your Allies!
- BRING BEASTS TO BATTLE - Train majestic dragons, powerful trolls and other beasts to fight alongside your army and bring down your enemies' defenses!
- A GLOBAL GAME - Enjoy StormBorn in English, French, Spanish, Italian, German, Russian, Portuguese and Turkish!
The Kingdom of Eraine is on the brink of ruin– will you answer the call?
Assemble and lead an army in this action + strategy role playing game! Connect and invest with each hero in your army by personalizing their gear, name, and powers! Every hero in your army can make the difference between victory and defeat – it's up to you to grow their strength, craft their gear, and unleash their INCREDIBLE POWERS in battle!
AN ACTION-STRATEGY RPG LIKE NO OTHER! Build an army from the ground up with customizable heroes with hundreds of different ABILITIES and SKILLS! Take them to the battlefield or send them on EPIC QUESTS to save the land from evil! Fight against countless other players online, across the globe! Build up a base to defend yourself from other players, send your army to show everyone your army's might! Bolster your army with Trolls, Dragons, Golems and more!
WELCOME TO ERAINE! A magical kingdom of wonder and mystery, Eraine has fallen on dark times. Restore it to its former glory! Construct your base using hundreds of lovingly-detailed buildings, and march to music scored by Bobby Tahouri!
THE WORLD NEEDS THE STORMBORN. Will you answer the call?
Note: A network connection is required.
= SUPPORT =
If you have questions or need help, PLEASE reach out to us at:
support@stormborngame.com
= STORY OVERVIEW =
Once, great heroes - the StormBorn - protected the world from evil. When peace finally came, these heroes sealed themselves within the Storm Portal, awaiting the day when their might would be needed once more. That day has finally come!
The Kingdom of Eraine is in crisis. The Good King, Artorian Lyoneld, led his greatest troops to unknown lands, leaving a token force to guard his realm. Now banditry and lawlessness run rampant - but this is only a shadow of the chaos looming.
A dark force threatens all in Eraine, but none are able to stop it. In this hour of desperation it falls to you, a legendary StormBorn, to save Eraine. Assemble your army. Explore the land. Uncover the mystery. And pray that when you face evil in darkest battle, it is not already too late.
Thông tin
Thông tin
Xếp hạng và

bài đánh giá

(0)
Tóm tắt đánh giá
Hiện tại không có đánh giá cho trò chơi này
Bạn cũng có thể thích :
Dịch vụ Android Trò chơi được cung cấp bởi PHONEKY và miễn phí 100%!
Các trò chơi có thể được tải về bởi Samsung, Huawei, Oppo, Vivo, LG, Xiaomi, Lenovo, ZTE và các điện thoại di động Android OS khác.
Thông tin trang:
Tải trò chơi StormBorn: War of Legends RPG vào thiết bị Andorid của bạn - một trong những Trò chơi Android tốt nhất miễn phí! Tại Thị trường Android PHONEKY Android, bạn có thể tải xuống các trò chơi di động cho bất kỳ điện thoại hoặc máy tính bảng nào hoàn toàn miễn phí. Đồ họa đẹp và lối chơi gây nghiện sẽ giúp bạn giải trí trong một thời gian rất dài. Tại PHONEKY, bạn sẽ tìm thấy nhiều trò chơi và ứng dụng khác thuộc các thể loại khác nhau, từ cuộc phiêu lưu và hành động đến logic và chạy các trò chơi apk Android. Tải xuống các trò chơi và ứng dụng Android miễn phí cho điện thoại di động, máy tính bảng hoặc máy tính của bạn. Để xem 10 trò chơi hay nhất trên Android, chỉ cần sắp xếp các trò chơi theo mức độ phổ biến.
Được