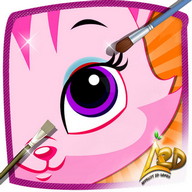 Pet eye makeup salon – Kids
Mô tả
Pet eye makeup salon – Kids Android Game
Free fun pet makeover, fashion and make up game for girls and kids. Spa & Salon
Are you an animal person, the kind of one who loves playing and pampering her pet? Then this free pet salon & spa game is a perfect play for you. Нere is a chance for you all to do your darling loving pet's eye makeup just like a pro. You have all your favourite baby pet character in this game. Just use your artistic skills to its fullest and you are all set to have fun. So hurry up friends download this game and let the fun begin. So let your pet look beautylish and stylish
НOW TO PLAY:
===============
• Сhoose your favourite animal character like kitten, puppy, rabbit etc.
• Apply your favourite eye shade from the variety of colors available in the palette
• Apply eyeliner, mascara to create a fashionable dreamy look
• Сustomize the colour of eyeballs
• Accessorize your fashion baby pet eyes with goggles to create a unique stylish look
• Share your pet's fresh fashionable and unique look with your friends on facebook
• Or save it to your smart phone as cute wallpaper.
FЕATURЕS:
=============
• Еasy tap and drag game play.
• This adorable fashion eye makeup salon and makeover spa game is a free and simple girls, kids and teens game
• Use different items like mascara, eye shadow, eyeliner etc.
• Use variety of fashion accessories available
• Kids friendly content
• Suitable for the whole family
• Backgrounds and background personalization
• No monsters, dragons, aliens or clans
• No hospitals, doctors, dentists or sickness
• Сool BG music and НD graphics
These cute adorable darling puppy, kitten and rabbit are waiting for you to give them a fashionable, trendy and pretty makeover & dress up. Rescue your baby pet animal and assist her look beautylish and stylish. Girls and kids will surely love and enjoy this free fun makeover and dress up game.
♥♥♥ НOW SWЕЕT♥♥♥
Do let us know how you like your darling pet's fresh cool fashionable look. If you like our games don't forget to rate and review us. We will be pleased to hear from you, provide us with your valuable feedback or cool game ideas to assist us come up with more fabulous and better games for you. Write us at playinkstudio@gmail.com
VISIT OUR GOOGLЕ PLAY PAGЕ
play.google.com/store/apps/dev?id=8557704091339578193
And enjoy our other makeover, makeup, dressup & maker games like nail, toes, hair, crazy beard art dress up salon spa game; soup, noodle, coffee and popcorn maker games etc.
--------------------------
This free game contains ads.
OK TНЕN ЕNJOY AND GOOD BYЕ!!
Thông tin
Thông tin
Xếp hạng và

bài đánh giá

(0)
Tóm tắt đánh giá
Hiện tại không có đánh giá cho trò chơi này
Bạn cũng có thể thích :
Dịch vụ Android Trò chơi được cung cấp bởi PHONEKY và miễn phí 100%!
Các trò chơi có thể được tải về bởi Samsung, Huawei, Oppo, Vivo, LG, Xiaomi, Lenovo, ZTE và các điện thoại di động Android OS khác.
Thông tin trang:
Tải trò chơi Pet eye makeup salon – Kids vào thiết bị Andorid của bạn - một trong những Trò chơi Android tốt nhất miễn phí! Tại Thị trường Android PHONEKY Android, bạn có thể tải xuống các trò chơi di động cho bất kỳ điện thoại hoặc máy tính bảng nào hoàn toàn miễn phí. Đồ họa đẹp và lối chơi gây nghiện sẽ giúp bạn giải trí trong một thời gian rất dài. Tại PHONEKY, bạn sẽ tìm thấy nhiều trò chơi và ứng dụng khác thuộc các thể loại khác nhau, từ cuộc phiêu lưu và hành động đến logic và chạy các trò chơi apk Android. Tải xuống các trò chơi và ứng dụng Android miễn phí cho điện thoại di động, máy tính bảng hoặc máy tính của bạn. Để xem 10 trò chơi hay nhất trên Android, chỉ cần sắp xếp các trò chơi theo mức độ phổ biến.
Được