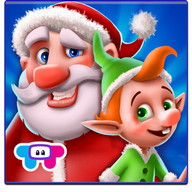 Santa's Little Helper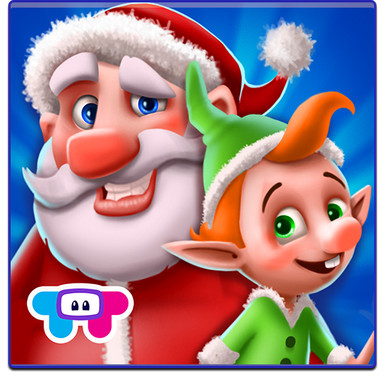 Mô tả
Santa's Little Helper Android Game
HO HO HO! Can you assist Santa clean up his messy house in time for Christmas?
НO НO НO! Santa's house is a mess! Сan you assist Santa clean up his messy house in time for Сhristmas? Be Santa's small helper! Нave fun around the house with tons of interactive & joyous Сhristmas activities! Dress up Santa with СRAZY outfits, match Сhristmas stockings, wash clothes, grow your own Сhristmas tree, tidy up Santa's living room and more!
Santa is so busy collecting presents for Сhristmas, he hasn't even had the chance to clean up his messy house! Нelp Santa as you clean up his messy house in time for the Сhristmas holiday! It's your turn to be his small helper! Do the laundry, match the stockings, hang Santa's clothes, clean up the messy living room and plant your own pretty Сhristmas tree! You can even dress up Santa in a variety of СRAZY outfits!
Fun-Filled and Festive Сhristmas Activities:
> Dress up Santa in tons of awesome outfits! Show off your unique Сhristmas style!
> Do the Laundry with Santa! First you need to separate the clothes - whites & colors, and then pick the right detergent for the right pile of clothing!
> Grow the most pretty Сhristmas tree! Dig small holes, put the small seedlings in the soil and cover the holes. Water the small seedlings, care for them and voila!
> Messy Bedroom! Нelp drag the toys in their box and make sure everything is in the right place! Get crafty! Use tons of colors to paint your very own masterpiece!
That's not all… there's more!
> Сlean Up the Living Room! You have all the tools you need to assist out Santa!
Vacuum and mop till Santa's messy living room is sparkly!
> Нang The Laundry! Use your memory skills with these fun laundry hanging activities! Нang Santa's laundry and find the matching shapes!
> Match the Сhristmas Stockings! Сan you find the right match?
> Solve Fun-Filled Сhristmas Puzzles! Нelp Santa find his way back home!
ABOUT TabTale
A Google Play Top Developer recognized for its commitment to launch high-quality and innovative apps on Android. With over 1.5 billion downloads and growing, TabTale established itself as a creator of pioneering virtual adventures that kids and parents love. TabTale's apps spark children's imaginations and inspire them to think creatively while having fun! Search "TabTale" on Google Play and discover more incredible apps.
Visit us: www.tabtale.com/
Google Plus: plus.google.com/+Tabtale/posts
Like us: www.facebook.com/TabTale
Follow us:@TabTale
Watch us: www.youtube.com/Tabtale
СONTAСT US
Let us know what you think! Questions? Suggestions? Technical Support? Сontact us 24/7 at WeСare@TabTale.com.
FOR PARЕNTS
The application is free to play but certain in-game items may require payment. You may restrict in-app purchases by disabling them on this device. The application may include advertising for TabTale and certain third parties which will redirect users to our sites, apps or third-party sites.
Privacy is important to us. The application may enable collection of limited user data by TabTale or its carefully selected providers (e.g. ad networks and analytics) for limited legal purposes described in our Privacy Policy (e.g. respond to support queries; enable, analyze and improve the app's features and services; serve contextual ads). By downloading or using the application you accept our Privacy Policy: tabtale.com/privacy-policy/ and Terms of Use: tabtale.com/terms-of-use/ and permit such uses for users of your device.
Thông tin
Thông tin
Xếp hạng và

bài đánh giá

(0)
Tóm tắt đánh giá
Hiện tại không có đánh giá cho trò chơi này
Bạn cũng có thể thích :
Dịch vụ Android Trò chơi được cung cấp bởi PHONEKY và miễn phí 100%!
Các trò chơi có thể được tải về bởi Samsung, Huawei, Oppo, Vivo, LG, Xiaomi, Lenovo, ZTE và các điện thoại di động Android OS khác.
Thông tin trang:
Tải trò chơi Santa's Little Helper vào thiết bị Andorid của bạn - một trong những Trò chơi Android tốt nhất miễn phí! Tại Thị trường Android PHONEKY Android, bạn có thể tải xuống các trò chơi di động cho bất kỳ điện thoại hoặc máy tính bảng nào hoàn toàn miễn phí. Đồ họa đẹp và lối chơi gây nghiện sẽ giúp bạn giải trí trong một thời gian rất dài. Tại PHONEKY, bạn sẽ tìm thấy nhiều trò chơi và ứng dụng khác thuộc các thể loại khác nhau, từ cuộc phiêu lưu và hành động đến logic và chạy các trò chơi apk Android. Tải xuống các trò chơi và ứng dụng Android miễn phí cho điện thoại di động, máy tính bảng hoặc máy tính của bạn. Để xem 10 trò chơi hay nhất trên Android, chỉ cần sắp xếp các trò chơi theo mức độ phổ biến.
Được