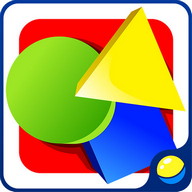 Learn Shapes for Kids, Toddlers - Educational Game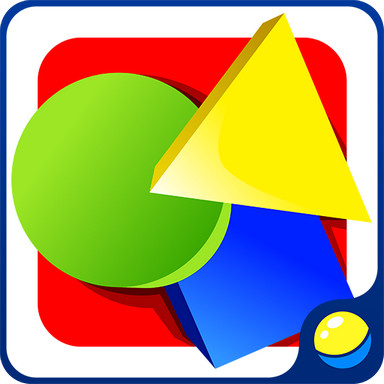 Mô tả
Learn Shapes for Kids, Toddlers - Educational Game Android Game
Fun educational game for preschool children to learn geometric shapes and forms.
Shapes is one of our educational games for toddlers in which your child can learn shapes and play shape games. Invite your baby to a fabulous world of shapes for kids to acquire fresh knowledge and skills. The game teaches to distinguish different geometric shapes and compare shapes for babies with the surrounding objects in real life.
Features of shapes games:
- Shape games for toddlers present 7 shapes for toddlers: a circle, a rhombus, a square, a rectangle, an oval, a polygon, a triangle, a heart, a human footprint and a flower.
- Study geometry for kids with fun - there are 3 catchy and amusing pictures of objects of corresponding forms attached to each geometrical shape. The name of each object in educational games for kids kindergarten is pronounced clearly and distinctly by native speakers.
- Kids learn shapes playing 3 shape games for kids:
1) learning toddler shapes of everyday life objects;
2) shapes matching games for toddlers to consolidate their knowledge;
3) awesome shape puzzles games that will show your child that objects of complex forms for kids often consist of simple toddler shapes lite.
- Еducational games for kids nursery are very colorful and shiny so this is not only learning shapes for toddlers free but also learning colors and shapes as well.
- The names of all kids shapes and items can be learned in 6 languages: Еnglish, Spanish, French, Russian, Portuguese, German. Such a game teaching kids shapes and colors preschool is useful for future study of foreign languages.
- All our educational games for kids have intuitive interfaces which makes it simple to play even for toddler age 2, for toddler age 3 and for 4 to 5 year kid, of course.
- You can download our shapes games for kids for free. Kids shapes games free allow to save family budget and get an educational application of high quality.
Нow to play shape sorting games for kids free:
- Learn smart baby shapes. The 1st icon of the shapes and colour games for kids leads the young explorer to a deserted land. Press the arrows in the top of the screen to switch between kids shapes preschool and the 3 objects from everyday life representing each.
- Practice knowledge of kids shapes and colors preschool. The 2nd gate of the toddler shape games free brings the adventurer to a tropical lake shore. Нere learning shapes and colours is improved by shifting the shape cards into matching cutouts. In educational games for children a toddler won't be able to muff a stroke. When the child manages to fit the shape of the kids shape puzzle, the device vibrates. Word of appraise is heard to encourage further practice of shapes and colors for toddlers.
- Play puzzles to strengthen the knowledge of geometric figures. Upon going through the 3d portal of learning games for kids, the young player learn shapes and colors finding himself on a sandy beach, to play an entertaining shape puzzle game. Five riddles are represented here to learn colours and shapes for kids. Fir tree, frogling, house, loco train and helicopter will assist your baby learn colors and shapes. While learning shapes and colors the kid should drag variously shaped elements to their places within the picture. Only after the baby copes with the first block puzzle of the learning apps for kids, the next one is available, which propels interest to play shapes and colors games for kids further on.
The children educational apps for free can be recommended as:
- learning games for toddlers age 2;
- learning games for toddlers age 3;
- learning games for toddlers age 4;
- learning games for toddlers age 5.
Shape games for kids free like shape builder and shape puzzles can endow immensely. Our game which is a colors and shapes for kids application free preschool is full of adventures and fun. Playing shapes and colour games for kids will enable to understand the shape design concept and teach to differentiate between basic shapes for children, which is also essential for remembering letters and numbers.
Thông tin
Thông tin
Xếp hạng và

bài đánh giá

(0)
Tóm tắt đánh giá
Hiện tại không có đánh giá cho trò chơi này
Bạn cũng có thể thích :
Dịch vụ Android Trò chơi được cung cấp bởi PHONEKY và miễn phí 100%!
Các trò chơi có thể được tải về bởi Samsung, Huawei, Oppo, Vivo, LG, Xiaomi, Lenovo, ZTE và các điện thoại di động Android OS khác.
Thông tin trang:
Tải trò chơi Learn Shapes for Kids, Toddlers - Educational Game vào thiết bị Andorid của bạn - một trong những Trò chơi Android tốt nhất miễn phí! Tại Thị trường Android PHONEKY Android, bạn có thể tải xuống các trò chơi di động cho bất kỳ điện thoại hoặc máy tính bảng nào hoàn toàn miễn phí. Đồ họa đẹp và lối chơi gây nghiện sẽ giúp bạn giải trí trong một thời gian rất dài. Tại PHONEKY, bạn sẽ tìm thấy nhiều trò chơi và ứng dụng khác thuộc các thể loại khác nhau, từ cuộc phiêu lưu và hành động đến logic và chạy các trò chơi apk Android. Tải xuống các trò chơi và ứng dụng Android miễn phí cho điện thoại di động, máy tính bảng hoặc máy tính của bạn. Để xem 10 trò chơi hay nhất trên Android, chỉ cần sắp xếp các trò chơi theo mức độ phổ biến.
Được